Ethereal. Subtle. Soft. Warm.
These words come to mind when I view Tokiko Anderson's work. It's like experiencing an embracing kiss, or a soft word, or gentle caress. The warmth Tokiko's work exudes is healing in ways, and speaks to the soul. A comforting feeling glows within each piece, and I can't help feeling a gentle peace flood through me like the turning of the seasons, combined with a lightness and feeling - I can almost hear a violin played in the far distance like a passing emotion every time I contemplate her artwork.
Tokiko's work consists of personal stories, music, and everyday observations captured in simple elegance coupled with a magical, ethereal quality.
She speaks of her life in America, how at age 60 she began to learn to live with the flow thus affecting her art, and how the absence of lines in an artwork creates a vision beyond.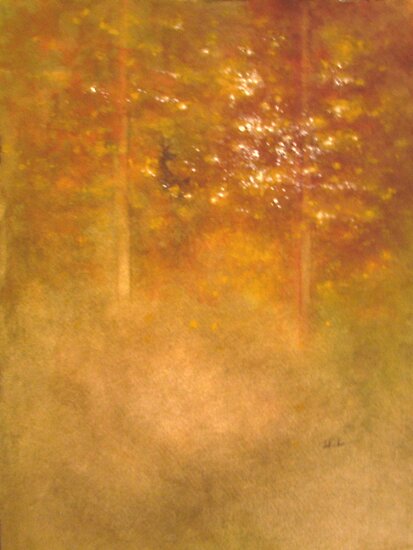 Deep in autumn
Long ago When fishes swam upper river against the current and
the deer rustled leaves deep into the mountain, the nature told us
The fall was deepening and the winter was near.
奥山に 紅葉踏み分けなく鹿の 声聞くときぞ 秋は哀しき。
_________________
What medium do you usually work with?
I use watercolor 99% of the time. When it's about done I touch up with acrylic.
How long have you been drawing/painting?
Since I was 8 years old, so about 58 years, but there were times I didn't paint as much.


Tell us about what motivates you to do your art. Your purpose to create the work you create.
The more I learn the deeper it gets. I always wander what defines real art from the scribble. Realism or abstract or ugly art (Munch, Klimt) or simple line drawing, however artists express their world within it had to be attractive, catch attention, interest.
Where do you draw inspiration from?
Things I see in my life everyday. That is waiting to be noticed but never demands attention. Things in the shadow but still wanting to be recognized. They fit me well. I know it
isn't
the way of life I would advice anyone to live in. But sometimes we all want to break out from the society that demands perfection, competition and progress.
Pick up to three artworks of yours that are the most meaningful/personal to you.
Pick one artwork of yours you'd like to talk about more in depth.
"Drop of spring" - it portrays the time snow melts and when turned to puddle remained in the grove like a dew dropped from the heaven.



Your artworks have a very soft, magical aura about them with a lot of feeling. Tell us a little about your creative method or technique in order to achieve this warm look and feel in your art.
At my age(60+) I learned to live with the flow. When I paint I know when the picture fits me, I scrub, add colors and wash off till I feel good about it. See? I don't take instructions. This had to come naturally but I trust when the time comes. Until then I keep scrubbing and washing repeatedly and let it happen. It used to take 3 weeks to a whole month. Once I let it happen to my satisfaction I can trust myself better.


Tell us something about you we don't know, maybe something quirky or awkward or unique ;)
Something you think that makes you who you are.


I married to an African American. Unfortunately the marriage didn't last more than 10 years but when I divorced I decided to stay in US because I wanted to see how this country would overcome the racial problem and this is the country I chose, I learned and experienced how it is like to be poor and single mother and minority in US. But I can say I am an American as much as other Americans and my respect for the African American has unchanged or greater than ever since 1972 when I married and came to this country.









Is there anything you'd like to tell other artists and people reading this? Any words of inspiration to
encourage or stimulate creativity in society?
If you draw the line as a contour it would limit the depth. Without it the artwork would suggest there is another dimension beyond vision. I think that is what leads into the imaginations.
山の彼方の空遠く幸い住むと人の言う
ああ我人と、とめ行きて涙さしぐみ返り来ぬ。山の彼方のなお遠く幸い住むと人の言う。
Over the mountains, far to travel, people say,
Alas, and I went, returned in tears,
over the mountains, farther to travel, people say,
To view more of Tokiko's work please visit: