A few weeks ago I was informed that artist Reynaldo passed away early last month. It was so unexpected that I couldn't understand it. I had followed his work since 2009 and I admired and appreciated his work - his approach to art and his style seemed always filled with his passion for beauty. I was planning to interview him for The Crown of Art just before I found out about his passing, so it was quite shocking to realize I'll never be able to interview him. Now I'm only left wondering what his answers would've been to my questions on his artistic process, his inspirations, and his thoughts on art.
Nevertheless, he left us his work, which I think best captures his inspiration and dreams.
By the strokes and colors and subjects that gave shape to his artworks we can tell and see much about who this artist was and what motivated him to create art in his life.
I have posted here his Artist Statement he left on his RedBubble profile, and I'll let his words and artwork do the speaking for him, and presentation of him, for this special feature.
As a self-taught working artist, I have always believed that we are all blessed with gifts. It's up to us to recognize and develop them; to what extent we will use those gifts to benefit others that cross our path.
Inspiration comes in all forms and can hit us in the midst of day-to-day life, with a compelling force that is irresistible.
Imagination and creativity can be a demanding mistress; but can push you to achieve beyond what you think you can do, and give you visions into the limitless possibilities of life.
~ Reynaldo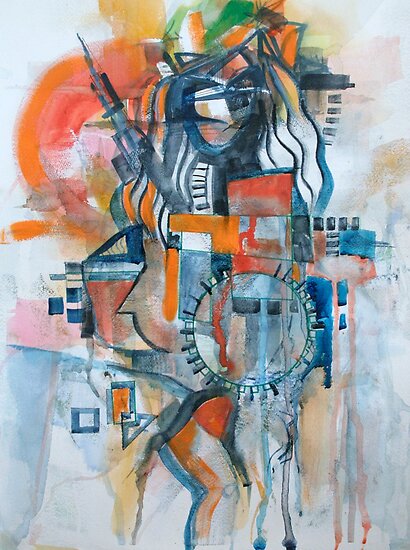 The Revolutionary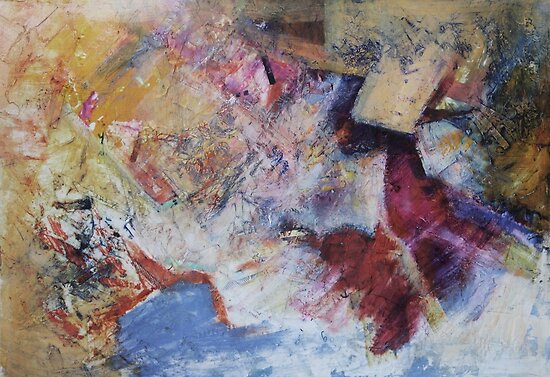 Come With Me To The Sea
" ...in this work there is a couple about to kiss… and if you turn the work around you will see more clearly the faces, but was painted as you see it… you can clearly see a man's abstract face beckoning her to come to the sea."
"Quick acrylic study painted to the tune of In The Mood…by Glenn Miller band. Love some of the old swing era music…and I use it to warm up and get the creativity
energy
flowing just before starting a major work, in acrylic. This small piece was painted in limited palette to the limited time of the tune…In The Mood…I find the faster I can paint the better the end results…
doesn't
always work though.
Sometimes I paint so fast I screw it up…and have to turn that piece into
completely
different look then visioned at start…and also end up spending more time but some of my best work (I think) have been done that way…funny like that…what starts out to be a warm-up for a major work….turns out to be a Major work and highly valued. Art is a passion…
Gotta love it…to know it
All my work is created by hand…(I don't use photoshop, or computer art programs…I leave that to computer artists as they are very good at being computer artists…I am lost in the computer…lol I am from the old school)…from different materials, and techniques I have learned over my long career in the arts/graphics/photography…from imagination and inspired sometimes by different things/people… I see, communicate, hear, or dream…"
"One of my favorite all time artist Wassily Kandinsky (1866-1944). I have chased Kandinsky as long as I have chased Picasso my all time favorite. Since I was in grade school. Freedom, movement, flow, balance, creativity, and imagination has always fascinated me."
"What if in an Alternate Universe… you were the "Message in the Bottle' and no matter how hard you struggled, tried to free yourself the waves kept coming and you kept repeating the message to yourself… The message you were given to carry safely to some forgotten universe…. but somehow you got side tracked… Don't you sometimes feel like that, funny like that… how that works. The message the goals you set out to accomplish, are not as important as they once were, the dreams keep coming as I can't paint them fast enough."
"Inspiration for this painting came from a dream of a girlfriend I once had who was 21 years old… 18 years younger then me at the time, and when we were home she always liked to walk around the house nude (hence the title … The Naked Kiss) or just in her silk bikini panties which I kept her supplied with… she inspired me… boy did she inspire me!!!!!!!!!!!"
"A wild carpet ride this year… for sure… not as profitable as last year, but I managed to keep very busy anyway… Although I believe I was more creative as I put more thought into some works that really came together quickly, seems like most of my favorite pieces, always come from dreams and visions and come together very quickly…"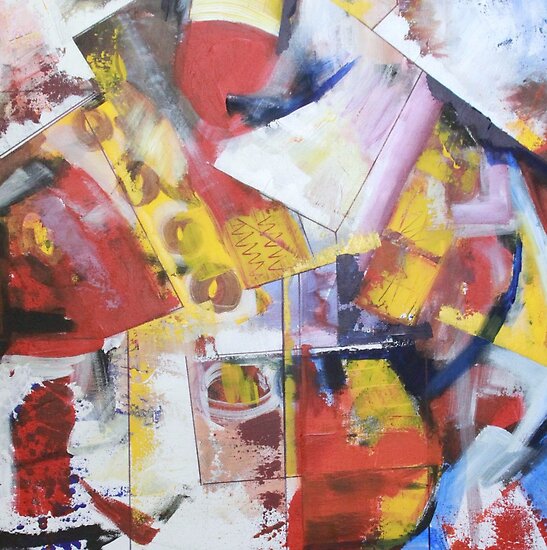 Creative Energy
"waking up with a cup of coffee in one hand and "pure creative energy" in the soul that begs to be put on canvas with no direction, no plan, only that pure energy that explodes the fire in your brain, with colors and shapes flashing before your eyes a mile a minute… over lapping layers and layers of color, designs and shapes, letting the graphic side of your creativity explore the passion and the wild side of your ability to the max… as artists… I believe we are Blessed…with pure Creative Energy… that begs to explore the realm of reality, fantasy, and yes, pure creative energy"
Reynaldo did three series of collaborations with artist and poet Anthea Slade highlighting the passion and sensitivity of women. They are fully expressive works.
Take a look at them here:
Reynaldo's own choices of his work that he put into a collection:
To view more of Reynaldo's art go to: